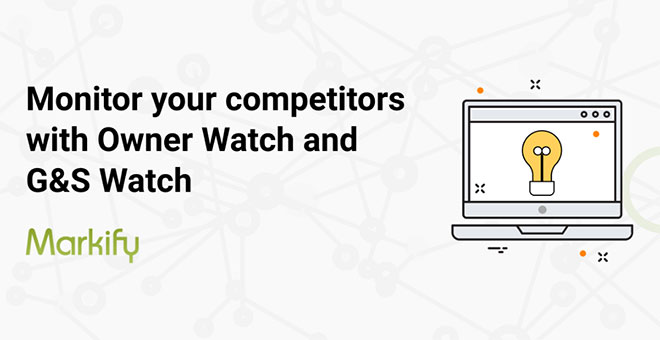 One of the earliest indicators that a company is planning to launch a new product is the filing of a trademark. Properly monitored, this type of business intelligence can be a valuable input to your, or to your client's, competitive strategy.
Markify has launched two new business intelligence services with which to monitor competitor activity.
Owner Watch and Goods & Services Watch will send notifications when a competitor makes a new strategic filing. Here is a quick overview of Markify's two new services:
The Owner Watch will in a weekly report give you all new trademark applications filed by a specific owner/applicant. But it will also give you an intelligent flag system which will point out the new, really interesting filings.
The Goods & Services Watch will send you all new filings with the watched goods and services. Like the Owner Watch, it will flag applications that are really interesting.
Pricing is similar to our Trademark Watch: €89 EUR per year for a global Owner Watch. If you just want one country it is €25 EUR per year. Bulk discounts start at 50 watches/year. Contact Markify Support to get your free trial code. Or, view more information, including detailed pricing.
The next time you log in to your Markify account, you will notice an updated dashboard, which we built to house our new services - and more new services that will be released soon.