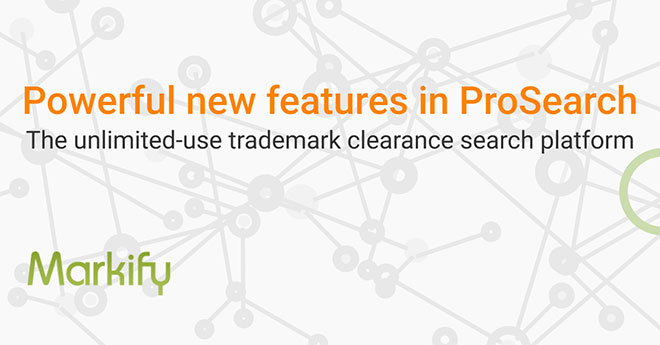 After months in testing and development, Markify has released long-anticipated major updates to ProSearch – our unlimited-use trademark clearance search platform.
We are very proud of these new features and even more so of the dedicated team who brought them to you. Here is an outline of a few of the most significant new features:

All-New Optional Modules for Image and Business Name Search

NEW: Artificial intelligence screening of design/device marks. You're now able to search images and logotypes without the need for design or Vienna codes. Our proprietary A.I. algorithm does that for you to an extreme degree of accuracy.
NEW: Global business name search. We've added a new optional module in the database selection allowing you to search more than 230 million company names on a global scale.

New image search and business name search options in ProSearch

Client-Requested Special Features

NEW: A map overview of individual country search statistics that gives you an immediate visual understanding of the geographical coverage of a result set.
NEW: Merging search results from two or more reports.
NEW: Improved options in Owner and Representative Search

New global Graphical View in ProSearch

We've designed these additions to help make your work easier, faster and more reliable. The best of our ProSearch improvements began as client requests. Let us know yours! Contact Markify Support for pricing and free trial information.