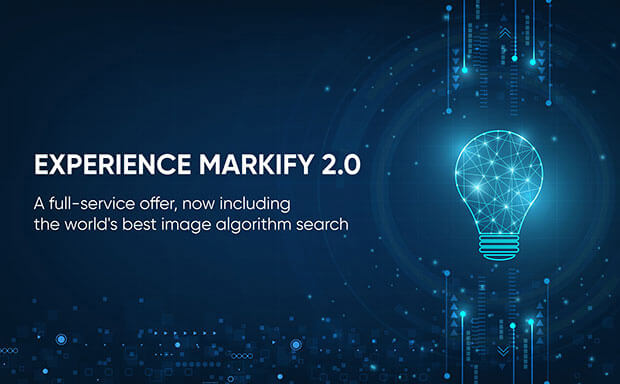 We are excited to now introduce "Markify 2.0" - a suite of new products, new features, new data sets, and design upgrades we have been working on the last 24 months. You asked for it and we created it, for you!
In this launch, we are inviting our existing clients and partners to test them. Below you will find a short Executive Summary. Please watch for more in-depth information and pricing packages in later emails and blog posts.
1. The world's most accurate image algorithm-based search (design mark/device mark)
We know the value of having the world's best word similarity algorithm. When we decided to build an image similarity algorithm, we set the bar at the same level - the world's best. It took us two years but now it is here. The coverage is global (190 countries) and the pricing starts at $69/59 €. If you have bulk discounts, they also apply here.
Get your free code on the first design mark/device mark search report (valid the next 3 months).
How do we know that it is the world's best? We will get back to you with a detailed explanation of our research in a later email.
2. Specialist driven image trademark search (design mark/device mark)
Even if we now have the world's best image similarity algorithm, we know that to clear an image based mark with the highest certainty, you still need a specialist to perform a search with Vienna codes, US design codes and image descriptions.
Our team of image search specialists will use a combination of codes and algorithms to find and filter out all potentially similar marks. And they will do this at an unrivaled price. Turnaround 3 days.
See the price list for both Algorithm and Specialist driven image search.
3. High quality data from 240 trademark databases - No price increases
You can now conduct screening, comprehensive searching and watching of high quality trademark data in 190 countries and the 50 US states. This makes our data coverage and data quality on par with the top two providers in the industry. This data is updated every day the PTO issues updates.
4. Pharmaceutical full search - Most accurate similarity/Best data/Best price
The first version of our pharma search was launched at PTMG last year - a full pharma search with the best similarity algorithm to succeed in an increasingly difficult clearance situation. Now we have added even more pharmaceutical specific sources to cover all angles. Same low price. See all here.
5. Heavily discounted "Combo pricing packs"
You can now create your own, multi-country discounted packs of Comprehensive search, word or device/design marks. The more countries, the lower the price per country.
6. Extended API services
The world's largest trademark data repository has become even larger and is now available in a number of different API and data export services. Get in touch with us to discuss your specific project.
7. Design upgrade
Due to all the new countries, data sets and new packages we have redesigned parts of our website, especially to give clients a better overview and presentation of the different services.
Summary
Markify 2.0: Now with a full service offer. Still best-in-class technology and services. Still best price.
Thank you for your continued feedback to support@markify.com. We look forward to hearing from you.